Important Dates
Important Dates PIMPAMA
18 May 2022
TERM 2 2022 IMPORTANT DATES
MAY
23 May
Year 2 Hinze Day Excursion
24 May
North Gold Coast Chess Competition
25 May
National Simultaneous Storytelling
Year 2 Hinze Day Excursion
Year 7 - 10 BBQ Fundraiser
Yr 5 & 6 Debating Workshop - selected students

26 May
Year 10 School Photos
JUNE
2 - 7 June
Year 10 Exam Block
4 June
Scholarship Exams and Principal's Tour
6 June
Year 1 Qld Museum Excursion
Year 10 Immunizations
16 June
Movie Night starting at 5 pm
Last Day of Term
20 June
King's Golf Day from 9 am to 4 pm
The Club at Parkwood, Arundel
Always refer to the Compass Calendar for more events and the most up to date event information.

---
Primary
A Visit to our Principal
17 May 2022
During this past week, a few of the Prep and Year 1 students have been selected to go and visit our Principal, Mr Rob Verreynne, to share some of their exciting learning.
This term in Year 1 they have been learning how to write exciting stories about superheroes! Atlas, Emma, Bianca and Geahna took their stories to share sizzling starts, their favourite super heroes and what superpower they wish they could have with Mr Verreynne.
While Prep students, Jesse, Luke, Armani and Isla shared their learning experiences from the week and this is what they had to say:
Jesse was able to read one of his readers and communicate his understanding of Crack-the-Code words that he could spell and track on his arm.

Luke told Mr Verreynne all about our new class pets Scratch and Hermie, our crabs whom we purchased to teach us hands-on learning about real-life marine creatures.
Isla shared her design of a new shell created for our pet Scratch and Armani read some of her sentences written about the pet crabs.
All of the students had a wonderful time, and it was the highlight of their day.
---
Preps Investigate "Our Marvellous World"
17 May 2022
The Prep students had a fantastic time at the Ocean Life Incursion!
As part of the Term 2 unit, 'Our Marvellous World', students have been investigating the vast array of wonderful sea creatures in our marine environments. The Prep students were able to get up close and personal with a range of creatures including a baby bamboo shark, freshwater turtle, blue linckia seastars, tropical sea cucumber, black sea cucumber, and sea urchins.
Students learned about the different habitats that these creatures live in, and how they can care for, and protect, the beautiful marine life around us.
---
Year 6 Students Learn About the Government
17 May 2022
A couple of weeks ago, the Year 6 students were blessed to have a jam-packed week dedicated to developing their knowledge in our current Project Based Learning unit about government.

Their driving question is: What impact does the government have on our Australian Society?"
Brisbane Parliament House Excursion
On Tuesday 26 April, Year 6 went on an excursion to Brisbane Parliament House to learn more about the government. At Parliament House, we all had fun and learned new things about the government whilst walking around the grounds. We went into the House of Representatives and had a go at debating. We played different roles and debated about whether there should be more homework for kids or not.
Written by Sukhraj Tatla
MoAD (Museum of Australian Democracy) Digital incursion
On Wednesday 27 April, Year 6 students were blessed enough to have a digital visit from the Museum of Australian Democracy. They were taught about the importance of Political cartoons, and were even taught how to draw one! Year 6 were shown various political cartoons drawn over the years depicting John Howard, Julia Gillard and others. Overall, The experience was a valuable and insightful experience as to how our democracy has changed and how art has had a say in the course of its change.
Written by Tirrian Whittaker
Guest Speaker
On Thursday 28 April, Tobby Sutherland, former sports teacher of King's Pimpama, came to the Year 6 classrooms to speak to us about the Three Levels of Government. Mr Sutherland told us how he was running for the federal election for a seat in the House of Representatives. He told us how he is in the electorate Forde and the school is in the electorate, Fadden. Mr Sutherland told us how he is running with the Liberal Democrats. He then threw in a pop quiz at the end. All the students got the answers correct!
Written by Polly Wrang
---
Mums Celebrated at King's Pimpama
10 May 2022
Our Primary and Noah's Ark students and teachers were very excited to invite our amazing mums to King's for our annual Mother's Day Celebration events. On Friday, 6 May, our special guests spent time in class with their children enjoying some creative activities together, and it was heartwarming to see our King's classrooms brimming with fun and laughter. Some mums enjoyed making sweet-smelling bath salts, embellishing crowns, crafting paper flowers or designing personal key rings, while others were pampered with hand massages and nail painting. Every mum was gifted with a beautiful card, thoughtfully hand-written by their child, and a Mother's Day Byron Bay cookie, as a small gesture of thanks for our much-loved mums. On behalf of our College, we want to honour and appreciate our incredible community of women who selflessly love and support their children in countless ways throughout the year.
---
Join the 2022 Premier's Reading Challenge
18 May 2022
At King's, we love encouraging our students to read, and so each year our College participates in the Premier's Reading Challenge (PRC). The Challenge is not designed to be a competition, but a way for students to develop a love of reading for life as they explore a wide range of literary texts and develop their appreciation of the English language. Last year, 926 schools and 357 centres across Queensland took part in this Challenge, involving more than 168,000 children who read over 2.39 million books! The 2022 program is once again open to all Prep - Year 9 students and is running from Monday, 9 May - to Friday, 26 August. Students are encouraged to select a range of fiction and non-fiction books suited to their reading ability and fill out the PRC form with the details of books they have read.
To complete the Premier's Reading Challenge, students need to read (or experience) the relevant number of books within the Challenge timeframe:
Prep - Year 2: Read or experience 20 books (experiencing a book includes classroom or at home activities such as shared reading, listening and reading along with a book, or being read to)
Years 3 - 4: Read 20 books
Years 5 - 9: Read 15 books (the reduced amount reflects that older students often select longer, more complex books that take longer to read)
Download a PRC form below or collect one from the King's Library. Happy reading!

Premier's Reading Challenge Form
---
Secondary
Geography Excursion to SeaWorld Gives Big Picture Perspective
19 May 2022
Year 10 Geography students had a beautiful sunny day for their field trip to SeaWorld on Tuesday 3 May. The purpose of the trip was two-fold: to learn more about the causes and impacts of marine debris on our ecosystems, and to collect valuable data for the field report students are writing as their assessment piece this term.
On arrival, students were greeted by the Sea World education officer, who led them through a program that outlined the causes and impact of plastics and other debris on our marine animals. This included a discussion on the role of Sea World in helping to rescue and rehabilitate affected wildlife. We met some of the now permanent residents of Shark Bay who were victims of our throw-away society. Some of the stories were heartbreaking, but it is reassuring to know that SeaWorld is happy to look after these animals, for as long as they need a home.
The highlight of the day was when our students got up close and personal with the inhabitants of Shark Bay, snorkelling in and around the coral reef. The students commented about the beauty of the reef and how seeing it up close helped them realise how precious it was and the need to protect it as a home for marine animals.
The afternoon was spent observing other wildlife throughout SeaWorld and trying to gain a big picture perspective on the need for effective conservation programs. Students also completed a public survey to gauge awareness of the issues surrounding marine debris. Back at school, the class will work on their field report, presenting their findings from the day, as well as from their own research, to suggest solutions to try and control a problem that has now become a worldwide issue.
Mrs Cassie Grimes
---
Year 8 Camp
12 May 2022
Recently the Year 8 Students went on their annual Year level camp for a truly Australian Bush Adventure. For the first time, the students stayed at Bornhoffen near Natural Bridge in the Gold Coast Hinterland. The campsite was located in a deep valley with steep mountain walls on either side. The students had an authentic experience of the outdoors with activities such as Hiking uphill through a creek, Abseiling down a waterfall and Canoeing on the Hinze Dam lake. Students gained personal development through the challenges and adventures on camp. Devotions, Praise and Worship were a highlight on both nights. Students heard a message about Comparison and Fear and were encouraged to have a resilient rather than victim mentality in an atmosphere where the presence of God was felt. The camp was filled with many memorable moments allowing the students to demonstrate personal growth, particularly when they faced their fears of heights or water or were pushed through one of the many physically exhausting activities.
---
KPC Latest News from Careers
17 May 2022
Traineeships Available
There are a number of traineeships available and these vacancies are listed on King's Careers site. These change on a weekly basis as new positions become available. Students who cannot find anything that appeals to them will need to source their own employer.

View Latest School-Based Traineeships for Year 11 & 12
Bond University Events for the Year
Climate Change and Law | Saturday 21 May 2022 | Brisbane
Power, War and Peace (An introduction to International Relations) - Saturday 11 June (multimodal)
Health Experience Day | Saturday 11 June (face to face)
---
Griffith University
FILM SCHOOL: GAMES DESIGN EXPERIENCE WEEK
27 June – 1 July 2022 | Griffith University
Griffith Film School Experience Week is tailored to Year 11 and 12 students considering study in games design. During the week-long program, participants will learn theoretical and practical skills from our industry-connected teaching team. Registrations now open for games design experience week. Cost: $295
---
TERTIARY PREPARATION WORKSHOP
27 June – 1 July 2022 | Queensland Conservatorium
Griffith's Tertiary Preparation Workshop (TPW) is for students applying for entry to a university music degree and can help prepare them for the theoretical and practical requirements of the audition process. Cost: $495
---
University of Queensland
UQ FEAST
26 June - 29 June | UQ's Gatton Campus
Future Experiences in Agriculture, Science and Technology (FEAST) is a 4-day residential program exploring agriculture, animal and plant science at their Gatton campus. Years 11 and 12 students can discover what it's like to be a UQ student by taking part in hands-on workshops run by current students and staff. Cost: $550
---
UQ JUNIOR PHYSICS ODYSSEY
6 July - 8 July
This program gives Year 10s the chance to hear from physics researchers, meet current UQ students and explore diverse topics in physics by participating in an exciting range of hands-on experiments and workshops.
---
ADF Information Sessions
Defence Force Information Sessions are held at the Defence Recruiting Centre at 14 Edgewater Court, Robina. Click the event name to find out more, or register:
---
View the latest Options Career Newsletter
Tips for Career Planning with your Child
Career Conversations with your Child
Career Tools Newsletter
---
Sport
King's Athletics Training
18 May 2022
Athletics training has blasted out of the blocks!
Every Tuesday and Thursday mornings at 7 am, Years 4-10 students can come along to receive expert coaching in sprint and throw techniques. On Tuesday, the group focused on the biomechanics of running. We developed the students running techniques in order to improve their speed.
For more information, please contact Mr Josh Sinclair.
---
Hinterland Cross Country 2022
10 May 2022
On Tuesday, 3 May, King's Pimpama sent 37 students to compete in our Hinterland Cross Country event at The Southport School (TSS). The students had to run further than our school cross country track but had been training hard in the morning sessions run by Coach Coles. We had five students placed in the top seven giving them an automatic selection to the regional trials, which will be held on Tuesday, June 7th. A special mention to Jacob Hanikson who won his event by a massive margin.
Selected for Regional Trials
Lucy Doyle - 10yr girls 6th

Zach Rankin - 13yr Boys 6th

Jacob Hankinson - 13yr Boys 1st

Justine Platon - 14yr Girls 5th

Kristian Meuwesen - 16yr Boys 4th
We are proud of everyone who was committed to training and gave their best performance on the day.
Josh Sinclair
Sports Department
---
Gold Coast Futsal School Titles
10 May 2022
Since Term 1, Mr Foster has been providing morning training twice a week for soccer and futsal to build up an interest in these sports. After a number of trials, we were able to register six teams in the Gold Coast Futsal School Titles held at Coomera Indoor Complex on 5 May. We took 40 students, ranging in age from 8 to 12 years old, to the competition and many of our competitors have been running futsal programs for many years. Despite this, our students displayed our foundational values of a King's kid, showing courage, perseverance and excellence as they played.
Results
Age 8/9 Boys: Semifinals
Age 12 Girls: 4th place
Age 12 Boys: Semifinals
Age 10 Boys: 1st place Champions
Age 11 Boys: 1st place Champions
We are so proud of all the students that competed and look forward to more success in this sport. Thank you parents for the early drop-offs and support on the tournament day.
Josh Sinclair
Sports Department
---
PBs for Mason Mower at State Championships
10 May 2022
Over 3 days in March, Mason Mower attended the Queensland School Sport State Championships for swimming. He did extremely well achieving new personal best times and in 5 events he ranked within the top ten in the State. Representing the South Coast Region his results were as follows:
200m Butterfly - 6th Place
100 Butterfly - 7th Place
200 Freestyle - 8th place
400 Individual Medley - 7th Place
200 Individual Medley - 8th Place
400m Freestyle - 11th Place
Congratulations Mason for your excellent results.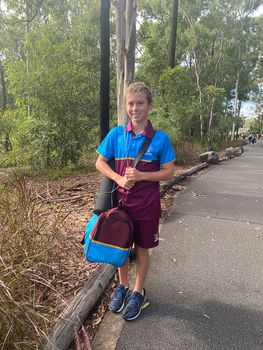 ---
Community
Last Chance to get tickets for Golf Day and Mini Golf
8 June 2022
Our College's annual King's Golf Day is coming up on Monday, 20 June 2022 (school holidays) at The Club at Parkwood, and there are only a handful of tickets left (8 teams) before the closing date on Monday 13 June. The event is open to golfers of all skill levels from across our King's community, including staff, students, parents and friends. Our inaugural King's Golf Day in 2021 was a huge success and provided a great way for our three campuses to come together and connect. The competition will run again as a 4-Ball Ambrose game, comprising of 30 teams of four players, and you can register a team, or individually (and you will be allocated a team).
The cost is $90 per person and includes 18 holes of golf, buggy hire, breakfast, two drinks vouchers and lunch. Golfers will need to check-in at 9 am where they will receive a light breakfast before the 10 am briefing. Players will tee off with a shotgun start at 10.30 am. After the game, we will enjoy lunch together and prizegiving from 3.30 pm, with some amazing prizes on offer from the year's sponsor JB HiFi.
A new addition to this year's event is a Mini-golf competition for younger players or "non-golfers" who do not wish to attempt the full 18 holes. The Boulders and Badlands mini-golf course is an exciting 18 hole course that weaves through a series of dynamic obstacles. The cost of mini-golf is $30 per person and also includes lunch. Tickets are still available for this event.
Places are limited so register now, via the button below:
Golf Day Tickets and Registration
---
Pastor Matt and Nurse Kayla Announce Arrival of Third Child
10 May 2022
Pastor Matt and his wife Nurse Kayla, are thrilled to announce the birth of their third child - Joy Karen Treagus. She was born on 6 May at 5:30 pm weighing 3.2kg. Mum and Bub are doing well.
---