Important Dates
Important Dates - Pimpama
15 February 2022
TERM 1 2022 IMPORTANT DATES
MARCH
Fri, 4 March
Student Free Day
Mon, 7 March
Year 1 Swimming Lessons

Wed, 9 March
Leadership Induction Assembly

Mon, 14 March
Year 2 - 6 Whole School Testing

Thurs, 17 March
Yr 7-10 KSF Maths Competition
Tues, 22 March
Years 3 - 6 and 7 to 10 Cross Country Events
Wed, 23 March
Yr 7-10 Honours Assembly Sem 2 2021
Yr 7-9 APSMO Olympiad/Maths Games (in-class)
Thurs, 24 March
King's Yr 5 & 6 InterSchool Debating Competition with Reedy Creek
Fri, 25 March
Yr 7-10 BBQ Fundraiser
Wed, 30 March
Easter Fest at King's Pimpama Evening event

Thurs, 31 March
Last Day of Term 1
Yr P-Yr 2 Live to Give
Yr P-6 Free Dress Day

Always refer to the Compass Calendar for more events and the most up to date event information.
For details and dates on Compass Calendar, click here
---
Primary
First School Camp Creates Memories
19 October 2021
QCCC was the destination of choice for the 2021 Year 4 camp. With overwhelming excitement and a few anxious parents, the staff and Year 4 cohort set off early Wednesday morning, bound for Mount Tambourine. They had a great first day that included shooting arrows at targets, doing nature workshops, overcoming fears with the tree climb and other exhilarating activities. Devotions on Wednesday night saw many reach out to God and worship him from their hearts. Courage was this year's camp theme, and it was great to see so many students showing courage as they overcame their feelings of missing home, to fully embrace their exciting camp experience. Unfortunately, the rain and impending storms put an early end to camp, but upon returning to school, camp games and activities, and another chapel service were held in the auditorium. The group finished their memorable camp experience at school on Friday with more fun activities, and a movie that demonstrated courage. I'm sure many memories were made by the students from their first-ever school camp!
---
Secondary
Junior Debaters Win Grand Final - A First For King's
19 October 2021
King's Pimpama Junior Debating Team were recently crowned the best Junior Debating Team on the Gold Coast in 2021, after they were undefeated all season. The team comprised of Grace Browning, Nisa Ahsani Iravani, Amy-Lee Smal, Naomi Sweeney and Emily White, but unfortunately Grace Browning didn't compete in the Grand Final. Their coach, Mr Matthew Burden, stated, "They are the first team to win a debating grand final in King's history. I am so proud of our students. They have been excellent ambassadors for our College."
"They were certainly up against it as the negative team. The moot was that the media should have further restrictions placed on it for children. They fought bravely and were the stronger team considering their unenviable draw position. They competed against a top independent school — who also put up a strong case — but did not comprehensively take advantage of their affirmative status," said Mr Burden.
The team was awarded individual medals, certificates, a perpetual shield and a glass winners' trophy. They are now worthy recipients of Gold Honours as well. The College Cocurricular staff would like to thank parents and friends for supporting the debating teams this year.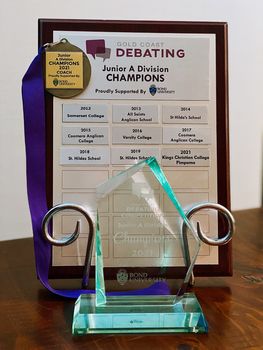 ---
Dressing Up for a Good Cause
19 October 2021
Operation Christmas Child is one of the charities King's supports each year as part of our Missions outreach program. This year, our generous families collected new toys, hygiene items, school supplies and other fun gifts to help Operation Christmas Child fill shoeboxes which will help bless children in need around the world as part of the Christmas appeal. Partnering with this Christian charity, King's are helping to show God's love in a tangible way to share the Good News of Jesus Christ. Each High School PC class are filling two shoeboxes to send overseas with much-needed items that light up the children who receive the box. Students will also cover the cost of the gifts and postage for either a boy or a girl. This term $519.40 was raised for the King's Missions Fund through gold coin donations.
---
Night With The Stars
19 October 2021
On Thursday, 14 October, the King's auditorium came alive with our future stars of stage and screen as they performed to friends and family at the inaugural King's Pimpama High School event "A Night with the Stars." The program featured drama, items of song and dance performances by our Year 9 students and an art gallery, featuring Year 7, 8 and 9 student work. A gold coin donation raised funds for the charity 100% Hope in Uganda.
In case you missed this special event, please watch our highlights video from the showcase.
---
Year 9 Geography students visit Currumbin Wildlife Sanctuary
19 October 2021
At the end of Term 3, Year 9 Geography students started their new unit of work on Tourism with a visit to the Currumbin Wildlife Sanctuary. As one of the Gold Coast's most popular attractions, the aim for students was to find out why so many people take the time to visit this particular location, and also to evaluate the impact of border closures.
The day started with some time to wander around the Sanctuary to gain an overall understanding of the purpose of the park. During the presentation of the 'Free Flight' bird show, students were introduced to some of the park's native residents and gained insight into their unique position in the food chain. Students also took part in two education sessions on domestic and international tourism. This included a discussion of the impact of border closures on the sanctuary, and how they were able to maintain their support for local wildlife with visitor numbers down by around 50%. Classwork for Term 4 is focussed on reasons for tourism and the impact of tourism from an economic, social, and environmental point of view. Students will spend time developing their geography skills by constructing and interpreting a variety of maps and graphs in preparation for their end of unit assessment.
Mrs Grimes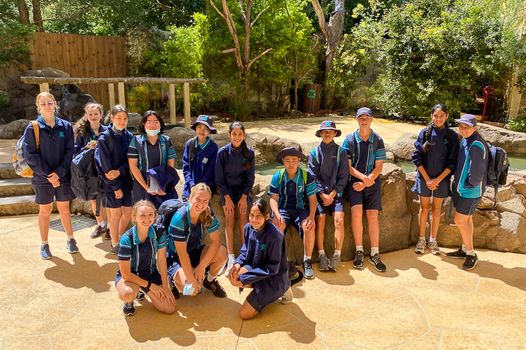 ---
Sport
Mason Mower Competes in Patron Shield Swimming Event
19 October 2021
Year 6 student, Mason Mower, continues to shine in the water, whether in the pool or in open water, and was recently selected to represent the Gold Coast in the 21st Annual Patron Shield. He was one of just four boys selected for his age group and they competed at The Glennie School, Toowoomba on the 26 September.
The Patron Shield is an Inter-Regional development Championship between the Brisbane, Darling Downs, Wide Bay and Gold Coast regions. He had a great day competing and making new friends and his highlight was being part of the winning freestyle relay team. On 16 October, Mason competed in the 2021 Queensland Open Water Championships in Coolum and he swam 2.5 kilometres in just over 36 minutes, placing him in 3rd in the State for the 12 Years Boys division. Congratulations Mason!
---
Community
Celebration Night Tickets Selling Fast
12 October 2021
The King's Pimpama Celebration Night will be a"one night only" event at the Yatala Drive-In and will feature our students on the big screen on Tuesday 16 November. With tickets running out fast, the details of Celebration Night 2021 are as follows:

Date: Tuesday 16 November 2021
Venue: Yatala Drive-In, 100 Stapylton-Jacobs Well Road, Stapylton
Gates open at 5:00 pm. Please be parked with your lights off by 6:20 pm. Anyone entering after 6:20 pm will be escorted to an available parking space by a staff member.
Presentation video to commence: 6:30 pm
We encourage our families to dress up their cars or themselves in Christmas attire, pack a picnic, bring your camping chairs and FM radio (to hear the audio) and come along to enjoy the night as we look back on the highlights of 2021 and applaud the students who will be rewarded for their dedication and efforts on screen. Refreshments will be on sale at the diner from 5:00 - 7:30 pm.
There is only one session on all three fields showcasing the video from Pre- Prep to Year 9.
Coles Myer gift vouchers will be handed out on the night to the five best-dressed cars that embody the Christmas theme. To be in the running for a prize, please be "dressed" and on display by 5:45 pm.
We look forward to seeing you at Celebration Night 2021. It was a big hit in 2020 so don't miss out. Spaces limited.
To book your tickets, click here:
---
Free Resilient Kids Virtual Conference
21 October 2021
The Resilient Kids Conference (RKC) is a one-day event for parents, educators, youth leaders, chaplains and anyone who works with young people. At the heart of our conference is a desire to offer parents and educators support, teaching and resources to encourage and equip them in their roles as they assist in the nurture of our precious children. The Resilient Kid's Virtual Conference will be held on 23 October from 8:30 to 4:30 pm.
Hear from SIX incredible speakers, each presenting in their own area of expertise:
Dr Michael Carr-Gregg – The secrets of post-pandemic wellbeing in young people
Susan McLean – Keeping our young people safe online
Sharon Witt – Caring for our own wellbeing during a worldwide pandemic
Michelle Mitchell – Everyday resilience: helping kids with friendship drama, academic pressure and the stress of growing up
Paul Dillon – Alcohol and other drugs
Ebony Birch-Hanger – Cultivating resilience in the presence of Autism and Anxiety
The online content will be available for eight weeks after the conference date. This event is available for free to our King's families.

Click the link below and use the DISCOUNT CODE KINGS. After clicking on the link, go to the Tickets tab, click on ticket type and enter "1" to the Virtual Access Pass and then enter details and the KINGS discount promotional code. The organisers will forward a personal link directly to each person who registers.
To get your free virtual pass for the Resilient Kids Conference, click here:
---
Revegetation Creates Environmental Corridor
23 September 2021
During the holiday we have been undertaking environmental revegetation planting along the new waterway near the ovals. The waterway was relocated to conform with our Approved School Masterplan and designed to ensure improved performance and safety, especially in heavy rain events. The revegetation will ensure reduced soil erosion and provide environmental habitat along the drain edge as well as an interesting visual amenity through use of a varied planting palette. This area will provide a great outdoor classroom for our budding biologists. #Learnpassionately
---