Important Dates
Important Dates - Pimpama
18 October 2023
TERM 4 2023 IMPORTANT DATES
OCTOBER
20 October
Year 3 Sleepover
Volleyball Jnr School Cup (20 - 22 Oct)

23 October
Step into High School
24 October
Yr9 Career Taster Day

25 October
GC Primary Schools Futsal Cup
Step into Prep (Noah's Families)
NOVEMBER
1 November
Senior Honours Assembly for HS
2 November
Year 4 Instrumental Music Concert
6 November
7 November
Year 2PB & 2PE Beenleigh Historical Village Excursion
2PA, 2PC and 2PD - Beenleigh Historical Village Excursion
8 November
Class Ambassadors Thank You Event
2024 Primary Captains' Confirmation Chapel
9 November
Sports Awards Evening
13 November
Years 7 - 11 Presentation Evening

14 November
Prep - Year 6 Presentation Evening
22 November
Year 6 Graduation Dinner
High School Calvary Futsal Cup Year 7-11

23 November
Principal's Cup House Celebration Day

24 November
LAST DAY OF TERM 4
Primary Free Dress Day
Always refer to the Compass Calendar for more events and the most up-to-date event information.
View all 2024 Term Dates
View Compass Calendar
---
Community
A Grand-tastic Day for King's Primary
18 August 2023
When the clock struck 9am on Friday, 18 August, King's Primary precinct was buzzing with excitement as over 700 beloved grandparents were ushered into our Prep - Year 6 classrooms by student leaders. Grandmas, Grandads, Nanas and Poppas all sat side by side with their eager grandchildren, embarking on a morning of unforgettable fun for Grandparent's Day. Our College classrooms and outdoor spaces became places for lively shared experiences as our students and their special guests engaged in mini-golf and lawn games, Kahoot quizzes, chess competitions and card games. Creativity flowed throughout the morning as crafting sessions unveiled some hidden talents and produced some vibrant works of art. King's Table Forecourt was also a popular place for our Grandparents to relax for a lavish morning tea together, amidst the sweet sounds of our Primary Choir performances. Later in the day, our Noah's Ark Grandparents arrived for some afternoon fun. Every hug, every smile, and every warm moment added a sprinkle of love to this extraordinary day. Thank you, King's families, for helping us make many more moments to treasure!
---
Sport
Youth Commonwealth Games Gold for King's Girls
14 August 2023
Some of the top young athletes from around the world ascended on the twin island nations of Trinidad and Tobago for the seventh Commonwealth Youth Games. With more than 1,000 young athletes competing in the 2023 event, it was incredible to see two of King's talented students, Ava Wereta and Amahli Hala, join the Australian squad after qualifying for our nation's Rugby Seven's Female Youth team this year. Australia entered the Games as the defending champions, winning Gold against Canada in the last Youth Games, and they were unstoppable from the outset this year, conceding only two tries in the entire competition.

Led by King's student, Ava Wereta and her teammate Piper Simons, their first round began with a 71-0 defeat over Trinidad and Tobago, followed by wins over Canada (33-0), Wales (26-7) and then Kenya (45-0). They entered the semi-finals against Fiji and again showed their dominance, winning 43-5. Our King's players were instrumental in the semi-final success – with Amahli scoring a double try, while Ava collected 11 points. The Grand Final was a rematch against the Canadians, and our Aussie team defended their title with ease, winning 50-0 and holding firmly to the Gold. The team's coach, Shannon Parry, affirmed their incredible efforts: "I'm exceptionally proud of this team - we came here to do a job, and the job's done: we secured the third consecutive Youth Commonwealth Games Gold Medal for Australia."
"It was such a good game, we really showed our sisterhood out there… we played for each other, played for our families and played for ourselves, so it was really good."
- Ava Wereta
World Rugby Chief Executive Officer, Alan Gilpin, talked about the value of the Commonwealth Youth Games in preparing future rugby sevens stars to experience high-level and meaningful competition. "We have seen gold medal winners from these Games go on to win medals in the Olympics and in the HSBC World Rugby Sevens Series," he said. With Ava and Amahli's Games Gold accomplishment to their names, we know the future is bright as they continue to chase their sporting dreams. CONGRATULATIONS Ava and Amahli - King's is so proud of you both!
---
Vicki Wilson State Netball Champions 2023
7 August 2023
The Vicki Wilson State Netball Championships is the premier netball competition for high schools across Queensland. It brings together the best school netball teams from across the State who compete for the coveted Vicki Wilson Shield - Years 7-9 or Vicki Wilson Cup - Years 10-12. King's had three teams make it to the final rounds and playoff at the Vicki Wilson State Netball Championships on the 5-6 August at Nissan Arena in Brisbane. We were the only school in Queensland to have a team in all three divisions qualify through the regional rounds to compete at the State Titles.
We want to congratulate our very talented Vicki Wilson Shield (Years 7-9) team who claimed the victory as STATE CHAMPIONS at the Final Championships in Brisbane on the weekend. The team were undefeated throughout the regional qualification rounds and State tournament and Brooklyn Kingi was named MVP of the tournament. Well done to our Vicki Wilson Cup team who qualified for the finals successfully finished 6th overall in the State. Our Boys Vicki Wilson Cup team also had a great competition and finished 11th overall. Well done to all of our King's Netball Coaches, parents and players for this impressive collaborative success.
---
King's Volleyballers Collect Multiple Medals
8 August 2023
King's had four volleyball teams compete in the Queensland Senior School's Cup from August 3-6, 2023. After six intense matches over the four days of competition, we congratulate our Year 12 Boys Honours team who dominated their division and won GOLD, to finish as the top team in the State. Special mention to Carter Forrester for his star performance in the Grand Final and being named Player of the Match. Our amazing Year 12 Girls' team worked tenaciously throughout the tournament to place Third in Division 1 and collect Bronze. Our talented Year 11 Boys' team also won Gold and were crowned champions in Division 2, while our Year 11 Girls finished 4TH in Division 2. It was amazing to see all of our teams make it through to the final medal matches - you've all made our College proud!
---
Primary
Year 6's Thrilling Cairns Adventure
11 August 2023
Our Year 6 students journeyed to Cairns during Week 4 of Term 3 for an exhilarating experience that will be etched in their memories forever. The tropical paradise of North Queensland became their playground as they embraced the theme 'Into the Deep' for an unforgettable camp expedition. Throughout the week, our young adventurers were treated to a whirlwind of adrenalin-charged activities that left them braver than ever before. From exciting encounters at Hartley's Crocodile Adventure to a mesmerizing exploration of marine life at the Cairns Aquarium, their days were full of excitement. The Zoom Wildlife & Adventure Dome pushed their limits, and presented fun challenges that fostered courage and camaraderie. But the real highlight of their final Primary School camp was a mesmerising encounter with marine life on the Great Barrier Reef. There they snorkelled amidst vibrant corals and took a trip on the semi-submersible glass-bottom boat to enjoy a portal to the underwater realm while an informative lesson from a real Marine Biologist unveiled more about the reef's mysteries.

Beyond their adventures, the cohort enjoyed quieter moments of reflection and spiritual growth in their evening devotions. Devotions are the important the heart behind King's camps Our Chaplains imparted profound messages and moments of worship that enabled our students to have time and space with God. Our Year 6 students brimmed with gratitude from the camp and thanked their teachers for their amazing experience. As they returned to school this week, photos circulated and memories of Cairns reverberated. Their 2023 expedition had unveiled not only the breathtaking beauty of nature but also the boundless potential they held, promising a future enriched by faith, courage and unity.
---
Seaworld Incursion Starts Science Week at King's
14 August 2023
Year 5 was blessed to begin Science Week for 2023 with a visit from Seaworld's marine biologists, Ellen and Georgia, who shared various topics about marine science. Their insightful presentations covered a range of subjects, from the value of research to cutting-edge technologies shaping the future of marine animal studies.
1. The Importance of Research: Ellen and Georgia emphasised the vital role that research plays in understanding and conserving our marine ecosystems. Through meticulous observation and analysis, researchers can unravel the mysteries of the ocean and make informed decisions to safeguard its delicate balance.
2. Harnessing Technology for Dolphin Health: One captivating aspect of their presentation was the utilisation of drones and infrared technology to assess the wellbeing of dolphins. By remotely observing dolphins' health through these innovative tools, researchers can detect potential issues early on, contributing to effective conservation strategies.
3. Drones and Biomarkers: Our guest presenters also delved into the unique use of drones to collect biomarkers from marine animals. The non-invasive technique allows scientists to gather valuable data about the animals' health and stress levels, without causing disruption.
4. Shark Deterrent Research: They shared about the exciting new shark deterrent research which has immense implications for both marine safety and conservation. By better understanding shark behaviour and testing various deterrent methods, researchers aim to create solutions that foster coexistence between marine life and human activities.
6. Innovating Marine Animal Research Technology: In the final part of their presentation, Ellen and Georgia sparked a thought-provoking conversation about the future of marine animal research technology. They encouraged attendees to brainstorm ways to innovate and create new tools that can revolutionize how we study and conserve marine life.
---
Secondary
100 Days Left of Year 12!
14 August 2023
As our Year 12 students approach their final months at King's, we held a special celebration day to mark the start of the 100-day countdown. The festive morning started with a hearty breakfast in The Hub, where laughter and camaraderie filled the air. Adding a playful twist, the students wore colourful pyjamas and transformed the space into a vibrant slumber party. This event encouraged unity and excitement across the cohort as they anticipated all the exciting 'final' events ahead of them this term. As the countdown continues, we are championing and supporting our seniors to finish with excellence, and to make the most of every last moment of their Year 12 experience.
---
Chess
King's Collects Top Spots in Chess Competition
11 August 2023
King's avid High School chess players competed in the 2023 Gold Coast High School Chess Championships at TSS on Wednesday, 9 August. King's Team 1, including Edwin Choi, Luka Hart, Bryan Yang and Micah Young, finished FIRST place overall, while King's Team 2, including Jordan Chan, Kotaro Inukai, WooJoon Ki and Cooper Whitaker, finished SECOND to supersede our competitor's top teams. Congratulations to our winning teams! King's is now the only school in the State to qualify two Primary, two Secondary and two Girls teams for the Queensland Chess Championships early next term, where they will play for the chance to compete at the Australian Chess Championships in December. Well done players and coaches - keep up your dedication and ongoing chess success!
---
Academic
Important Term 3 Attendance Information
8 August 2023
Term 3 is now in full swing, which is a good time to remind parents and students of our attendance policy. Great attendance at school is imperative not only to academic success but to social confidence and to the development of the school community. We expect that students, unless ill, attend every lesson every day. The below table demonstrates the impact absences can have - even when these seem minor.
Please consider your children's attendance, and whether they are meeting our attendance targets below.
Key Points to Note
Assessment schedules are available in the Compass App for each year level. Select High School> Learning> Assessment> Assessment Schedules.
It is important that students attend school consistently in the lead-up to, and during, assessment time to ensure success for each piece.
We ask that Year 7 - 12 parents avoid taking students out of school for term-time holidays or other commitments that may impact their learning and assessment schedule.
Extensions for assessments will not be given in the case of absence, except in extenuating circumstances.
Term 3 finishes on Thursday, 14 September. Important learning will be occurring in every year level until this date. Please avoid early holidays.
Please let us know if there are ways we can partner with you to support your child's good attendance at school!
---
Library
Premiers' Reading Challenge 2023
11 August 2023
The Premiers' Reading Challenge has a few weeks left, and King's library staff have been excited to see how our students have embraced this reading challenge with enthusiasm. Many of our students have completed and handed in several record sheets. Please remind your child to continue to read and hand in the record sheet to the library by 25 August as our libraries will have some prizes for the top readers. Well done to our avid readers who have completed a reading sheet so far. Happy Reading!
---
Important Notices
State Cup Football Semi-Finals
18 August 2023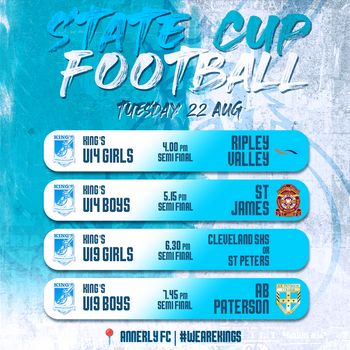 After starting back in early Term 2, playing through their pools and multiple knockout rounds, all four of King's State Football teams are into the Semi-Finals for the ISSA/Uhlsport Cup. These games will take place this Tuesday, 22 August in South Brisbane at Annerly FC. We are hoping for a Cup first which would see to see all four teams make it to the Grand Final in a massive night of football. Go King's!
---
Save the Date for Father's Day 2023
8 August 2023
Our Father's Day Celebration is Coming...

King's Primary are also excited to invite our amazing Prep - Year 6 dads to our Father's Day Celebration on Thursday, 31 August, from 1.45pm - 2.45pm. This relaxed afternoon at King's will include a range of fun, energetic activities with dads [Year 4-6 APS Sport Training will be moved to Tuesday that week].
---
King's Inaugural Rugby Information Evening
28 August 2023
King's Sport Department is excited to announce our inaugural Rugby Information Night on Monday, 4 September from 6 - 7pm in the auditorium. This night will provide information about King's Rugby program and will share more about the exciting direction for King's Rugby in 2024.
Key topics will include:
Strength and Conditioning Program for Rugby
Rugby 7s overview (boys' and girls' program)
Boys' Rugby overview
2024 coaching announcements for all teams
Pathways into representative teams
Please see the flyer for all other information. This is a public event and we welcome anyone from the community who would like to find out more about King's Rugby program.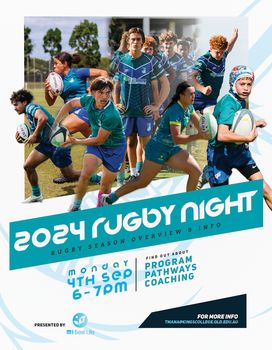 ---
You're Invited to our Film Showcase & Awards Evening
18 August 2023
King's Creative Arts Department is pleased to invite our High School students and their families to the second annual 'Focus' Film Showcase and Awards Evening. This special event will spotlight some of the incredible works that our senior Film, Television and New Media students have created this year.
Please join us on Monday, 11 September, at 6pm in the FLS classroom for this special celebration evening.
View the Awards Night Flyer
---
P&F Ball Tickets on Sale
14 August 2023
The P&F are pleased to invite our King's community to a night of glamour and connection at the Gatsby-inspired 2023 P&F Ball. More information via the flyer and button below:
MORE INFO | PURCHASE TICKETS
---
Reedy Creek Vacation Care Bookings Now Open
16 August 2023
King's Outside School Hours Care (KOSHC) are now taking Vacation Care bookings for the upcoming September school holidays. KOSHC runs and exciting Vacation Care program from their centre, located near King's Church auditorium and they have another great program coming up, including excursions to the movies, Inflatable World and Currumbin Wildlife Sanctuary, and exciting themed centre days! See the full program via the button below:

Reedy Creek KOSHC
Vacation Care
Friday, 15 September - Friday, 29 September
KOSHC is closed from December 24 - January 3, 2023
Opening Hours
6.30am - 6.30pm, Monday - Friday
Age range
Prep - Year 6 students (and above)

Cost
In-Centre Day
$71

Incursion Days
Friday, 15 Sept - Edible Science +$20
Monday, 25 Sept - Gecko Sport +$20
Friday, 29 Sept - Riddle Me This! +$10

Excursion Day
$94
Bookings
Complete the Booking Form and email to reedycreek@koshc.net.au
For further information, please contact KOSHC:
T: (07) 5593 4233
E: reedycreek@koshc.net.au
W: koshc.net.au
September 2023 Vacation Care Program
---
Free Dental Checks at King's
1 August 2023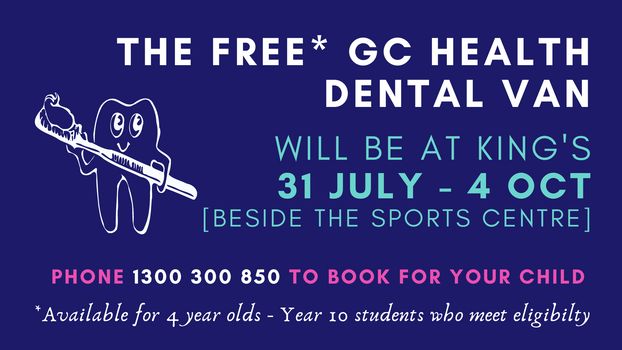 King's is currently hosting the Queensland Government's Mobile Dental Van near the Sports Centre until 4 October 2022. This free dental care service is offered free of charge to any child who meets the eligibility criteria:
Be a Queensland resident or attend a Queensland school
Be eligible for Medicare and meets at least one of the following criteria:
- four years or older and have not completed Year 10
- eligible for the Medicare Child Dental Benefits Schedule
- referred by Community Child Health Nurse (Lift the Lip Program) or
- be listed as a dependent on, or hold a valid Centrelink concession card
BOOK YOUR CHILD'S FREE APPOINTMENT BY PHONING 1300 300 850
Find out More...
---
Careers
Careers Department Highlights
13 October 2023
Traineeships Available
There are a number of traineeships available and these vacancies are listed on King's Careers site. These change on a weekly basis as new positions become available. Students are encouraged to source their own traineeship employer if there is nothing on the list that appeals to them.
CURRENT TRAINEESHIPS
Registered Training Organisation Courses
Students in Years 10 and 11 can apply for external study options to enhance their career options. Students need to ensure they have good time management skills to cope with the workload.
Online Careers Hub
The 'Where to Next' Hub is available on CareersEvent.com, and provides an informative Careers Hub for senior students and their parents. Visit the hub for access to tertiary webinars, upcoming events and the latest news on careers and courses.
---
Read More From King's Careers
For a full list of events or to register for the King's Careers Newsletter, visit King's College Careers.
View QLD Careers Calendar
Tips for Career Planning with your Child
Career Conversations with your Child
Career Tools Newsletter
Pathways to Nursing
Pathways to Entrepreneurship
10 Tips to Study Smarter
---