Important Dates
Important Dates - Pimpama
25 July 2023
TERM 3, 2023 IMPORTANT DATES
JULY
31 July
Year 5 - 6 Debating Training
AUGUST
1 August
Subject Selection Event
3-5 Aug

Roald Dahl's Charlie and the Chocolate Factory School Musical - 6.30pm
3 Aug
Yr 7-9 Maths Competition (CAT) The Computational and Algorithmic Thinking

8 Aug
Noah's Ark Parent Teacher Learning Conferences 3:30 - 7pm
9 Aug
HS Inter-School Chess Competition
13 - 17 Aug
Year 9 Melbourne Trip
14 Aug
Year 5 Write a book in a Day
14-18 Aug
Prep - Year 6 Science Week
17 Aug
Year11 Business Excursion to Bond
18 Aug
Grandparents Day 8.40 - 11 am and Noah's Ark event 2-3pm
19 Aug
Spring Fair
21 - 24 Aug
Noah's Ark & Prep to Year 6 Book Week
21- 23 Aug
Year 5 Camp
21 Aug
Year 3 Planetarium Excursion
Year 6 Write a Book in a Day
22 Aug
High School Biz Day
Always refer to the Compass Calendar for more events and the most up-to-date event information.

View all 2023 Term Dates
View Compass Calendar
---
Important Notices
Save the Date for Grandparents Day 2023
25 July 2023
In recognition of the important role grandparents play in the lives of our students, and in the vibrancy of our school community, we are honoured to invite our Primary School grandparents to our annual Grandparent's Morning on Friday 18 August.
The students and staff cannot wait to welcome grandparents into their classrooms for a morning of fun activities across two sessions:
8:40 am - 9:40 am; Prep - Year 2
10:00am - 11:00am; Years 3 - 6
Parents and Guardians, if you could please assist us by passing this invitation on to your parents, that would be greatly appreciated. We cannot wait to open the doors of our school to our grandparents and look forward to a morning of fun and excitement as the students share their learning journey with them!
"For the Lord is good. His unfailing love continues forever, and his faithfulness continues to each generation."
- Psalm 100:5 (NLT)
---
Spring Fair is in the Air
25 July 2023
To celebrate the approaching beauty and warmth that spring brings, we would love to invite our College community to the PIMPAMA SPRING FAIR on Saturday 19th August 2023, from 11 am - 3 pm.

The wristbands are required for children only, giving them access to many fun rides and activities throughout the event. One adult may ride with the child free of charge and does not need to purchase a wristband. Pre-Purchased Wristbands can then be collected on the day from 11 am at the Information and Wristband Tent:
Please click on the link below to purchase your wristbands, to avoid the queue on the day:
Purchase your wristbands via Eventbrite, click here:
Reminder: We are calling all bakers and those who could make donations for the P&F Bake Sale. Our P&F would love your help with baked goods or ingredients so that Holly and her team of bakers can bake for the day and all money raised from this stall goes straight back to the King's Pimpama P&F fund. If you would like to bake some goodies for the stall, please label your products with the ingredient list and handed in to the library, for attention Mrs Brooker, on either Thursday 17 August or Friday 18 August, before 4 pm. However, donated items for use in baked goods can be handed into the library on Thursdays and Fridays by no later than 11 August. We need eggs, flour, butter, sugar, chocolate, milk, cocoa powder, and whatever else we can use to bake lots of yummy goodies to raise money for our amazing school.
Contact Holly Barnes for more information or participation in the Bake Sale
---
Remaining Tickets on Sale for Charlie and the Chocolate Factory
26 July 2023
There are still tickets available for Roald Dahl's Charlie and the Chocolate Factory shows.
The dates of the performances are 3, 4 and 5 August with the majority of tickets are still available for Thursday night's performance. The show commences at 6:30 pm each night. There are three pricing categories: Children or Concession holders at $15 pp, Adults at $25 pp or if you are booking five or more tickets they are available at $14 each. The group tickets are the most limited for each night's performance. Please note that Eventbrite adds their booking fee for each ticket.
The best two nights to grab tickets for are on Thursday and Friday evenings.
The show is based on the famous novel by Roald Dahl, Charlie and the Chocolate Factory. It features an original score composed by Marc Shaiman with lyrics by Shaiman and Scott Wittman and book by David Greig.
The tantalisingly famous Willy Wonka is opening the gates to his fabulously elusive factory…but only to 5 lucky children. Young Charlie Bucket and four eccentric golden ticket winners will undertake a life-changing journey through Wonka's world of pure imagination including chocolate waterfalls, nutty squirrels and a great glass elevator, all to be revealed by Wonka's army of delightfully ambitious Oompa-Loompas. Charlie and the Chocolate Factory is your golden ticket to immerse yourself in an outrageously whimsical musical that will force you to embrace your inner child and remind you what it means to imagine.
Click here to purchase tickets to Roald Dahl's Charlie and the Chocolate Factory
---
Community
Dedicating KCOT
28 June 2023
King's College of Teaching (KCOT) held its debut dedication service at the end of Term 2, as our college leadership and mentors came together to pray over our Pre-Service Teachers who are enrolled in the KCOT program offered at King's Pimpama campus.
In partnership with Christian Heritage College (CHC) and Alphacrucis University (AUC), the KCOT program allows aspiring educators to step into the classroom from the commencement of their degree and receive mentorship and support dedicated to overseeing their spiritual growth and wellbeing.
The KCOT program trains teachers in a Christian environment and partners with CHC and AUC to offer quality Christ-centred Education degrees through a range of accredited courses.
Let's continue to pray for our Pre-Service Teachers and King's College of Teaching as we endeavour to educate Christian leaders for tomorrow's generation.
KCOT is currently taking applications for 2024. If interested in applying, please email Davina Harvey dharvey@kingscollege.qld.edu.au to obtain an application form.

---
Performing Arts
International Composer Inspires King's Strings Musicians at Intercampus Workshop
18 July 2023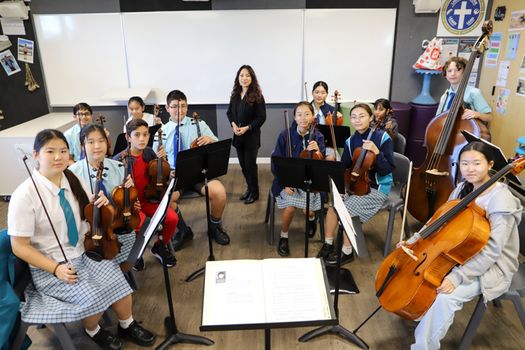 On the Pupil-free day, 10 July, King's string orchestra students from Reedy Creek, Pimpama and Logan Village joined together for a day-long workshop where they learned new skills and improved the craft of their string instrument under the tutorage of internationally acclaimed composer and conductor, Soon Hee Newbold, and many of King's own educators.
Soon Hee Newbold is known for incorporating differing cultural and ethnic styles in her writing inspired by her experiences and travel. She started her musical journey at the age of 5 on piano and violin at age 7 and performed as a concert artist in professional ensembles around the world. As a composer, Ms Newbold's works are performed by groups ranging in all levels from professional symphonies to beginning elementary ensembles in venues such as Carnegie Hall, the Kennedy Center, Wolf Trap, Disney Hall, Lincoln Center, Midwest Band and Orchestra Clinic, and many more worldwide stages.
Ms Newbold is frequently sought after as a keynote speaker and guest clinician. She has conducted and worked with orchestras and bands throughout the U.S. and overseas such as The Netherlands, Belgium, Australia, Indonesia, Singapore, and China. As a filmmaker and composer in Hollywood, her music can also be heard in film and other recording projects. Ms Newbold continually seeks to share her passion for music with students all over the world, including all who were blessed to be a part of the workshop on that day.
The workshop provided focussed sessions for all King's quartets and string orchestras, including Reedy Creek - King's Chamber Ensemble, King's String Orchestra, Mezzo Strings; Pimpama - Pimpama Primary String Orchestra and Pimpama High School Orchestra, and Logan Village String Orchestra. Throughout the day each ensemble had multiple sessions working with various teaching staff. The day culminated with a combined concert for parents in the King's Pimpama Community Centre.
The workshop concert featured performances from each ensemble but also included an item with the combined Primary orchestras and another with the combined High school orchestras. An 'All-in' finale piece titled Momentous included all students involved in the workshop on that day, concluding the concert.
Overall, the students had an enjoyable and challenging day learning from various educators from King's and Ms Newbold. It was a great experience for all students and staff involved and the College looks forward to presenting more opportunities like this in the future.
For More Photos of the King's Pimpama students, click here:
---
Eisteddfod Results
25 July 2023
Congratulations to our King's Pimpama Senior Strings Quartet, under the direction of Mr Ryan Chislett, who competed in the Quota Beenleigh Eisteddfod (QBE) recently and received a solid 3rd-place result in the Open category. They played 'Departure' from Studio Ghibli's "Kiki's Delivery Service" by Joe Hisaishi and arranged by Yukihiro Matsubara. The quartet performed exceptionally well with lots of practice and took to heart the skills they further acquired from attending the Soon Hee Newbold workshop during the holidays.
Congratulations to Year 11 student, Shinwoo Emily Lee, for winning her two solo pieces in the Instrumental Baroque and Instrumental Classical. Shinwoo took home the Jennifer Newcomb Trophy from her win in the Baroque section. Well done to the young ladies for their outstanding performances.

---
Instrumental Music Concert for Year 3 & 4
18 July 2023
The Year 3 and 4 students had a special treat with a visit from some very talented high school students who play in the Pimpama High School String Orchestra and the Reedy Creek Senior Concert Band. The two groups performed for the Year 3 and 4 students during a special Instrumental Music concert.
The students were entertained and delighted seeing these talented musicians, from their own school, perform for them.
This was an experience that will not be quickly forgotten and was an opportunity for them to be inspired by what is possible when practice and dedication are applied to the instrument they are currently learning.
Thank you Pimpama High School String Orchestra and the Reedy Creek Senior Concert Band members for giving of your time and inspiring these up-and-coming musicians.
Abbey Sharp - 4PB
"On Thursday we went to the Senior Orchestra and String Ensemble. My favourite instrument was the bass and my favourite song was the Western Trip. I liked this song because it made me bob along to the beat. I also enjoyed the violin because it was super cool and played really well."
Caden Clifford - 4PB
"When I went to the Senior Orchestra and String Ensemble, I liked the trumpet and the violin playing the most. I liked the trumpet because I play it as well and I liked the violin because it made creative sounds."
---
Secondary
Hillsong Conference Comraderie
13 July 2023
Never thought that a 12-hour bus ride could actually be so entertaining. From singing and playing games to laughing, sleeping and food stops, our bus ride was filled with unforgettable entertainment.
Stepping into a massive venue, it was such a surreal experience seeing thousands of people fully engaged and pouring their hearts into praise and worship. The speakers inspired us with messages about patience, our purpose, joy, the power of prayer, worship and scripture.
Another daily highlight was attending Young & Free sessions filled with exciting tribe competitions and crazy challenges. The atmosphere was electric with the youth dancing, laughing and connecting.
The Hillsong Conference experience taught us the importance of coming together as one body of Christ. We realised that we are not alone on our journey and that there is strength in unity.
After a big day, we would go back to our accommodation only to continue with funny pranks between teachers and students.
We will forever carry the memories of this conference as a reminder of the power of God's presence and the strength of united worship.
Sarah Phipson - Year 10 King's Pimpama
---
Careers Highlights - August 2023
26 July 2023
Events
For all important dates and events regarding careers, view the Calendar of Events
Careers, Courses and Universities Newsletters
Options Career Information Bulletin
Access code for all https://optionscareers.com.au/welcome/KCC‬
Access all bulletins here.
Options Career Information Edition #11
Study Work Grow
Open days, information sessions, competitions, scholarships and career-related newsletter. There's some useful information in the links below:
SWG 10/7/23 Edition
SWG 17/7/23
SWG 24/7/23 Edition
Pathway Options and Future Career Articles
Click on the buttons below to read about entry into a few different careers:
Benefits of doing VET in school
Latest School-Based Traineeships for Year 11:
Current vacancies can be found in the vacancy lists promoted on this site. These change on a weekly basis as new positions become available.
Students who cannot find anything that appeals to them in these vacancies need to source their own employer.
Defence Force Work Experience Program
The Defence Work Experience Program provides opportunities for young Australians interested in a career in Defence to gain exposure to the type of work that is available.
Opportunities are available for both secondary students and you must be at least 15 years of age at the time of the placement.
Defence Force Work Experience Information, click here:
Defence Force Information
GC Defence Recruiting Centre, Ground Floor, 14 Edgewater Court, Robina

Defence Events:
Defence Careers Information Session: 3 August 6-7 pm: Register Here:
Navy Career Information Session 15 August 6 - 7.30pm: Register Here:
Army Reserve Immersion Day (Brisbane) 19 August 9 am - 12 pm: Register Here:
Aviation Career Information Session 22 August 6 - 7:30 pm: Register Here:
Army Reserve Information Session 29 August 6 - 7.30 pm: Register Here:
GAP Year Information Session 31 August 6 - 7.30 pm: Register Here:
Registered Training Organisations - Courses
Students in Year 11 can apply for external study options to enhance their career options. Students need to ensure they have good time management skills to cope with the workload.
Health Science Hub courses and pathway options in tertiary preparation

GeSS Education courses and pathway options
TAFE and Trade options fill fast and so students need to apply ASAP to secure a place in their desired course.
TAFE Brisbane course option for 2024. Visit https://tafeapply.com/ and enter the code: TQB2401
Gold Coast TAFE course options for 2024. Visit https://tafeapply.com and enter the code: TQGC2302
Gold Coast Trade College - pre-apprentice courses for 2023. Enrolment form and transport permission
Guides for Parents
The following information is to help your child with career investigation and decisions.
---
Sport
AFA Futsal Tournament
19 July 2023
Congratulations to King's Pimpama Primary students and futsal players, Roman, Jayden and Bailey who are competing in the AFA International Tour in Fiji for the sport of Futsal. We wish them a great tournament and a safe trip home!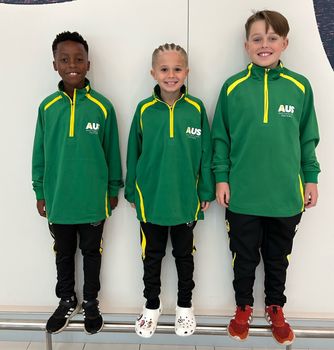 ---
General
Follow King's Pimpama Instagram Accounts
18 July 2023
Did you know that King's has a range of vibrant Instagram accounts showcasing many exciting aspects of our school life? This is a new account for King's Pimpama and we'd love to grow our media presence on this platform. Currently, we have a campus page: @kings_pimpama, our sport page is @kings_pimpama_sport and our central College page: @kings_christian_college.

We'd love you to follow us to support our students and see what's happening behind the scenes at King's...
---
College Life
Congratulations on Miss Harmon's Engagement
12 July 2023
Congratulations to Miss Emma Harmon, Year 3-4 Primary Coordinator and Year 4 Teacher on her engagement in the June-July school holidays. We wish her and her fiance, Cam, all the best in planning their wedding that will take place at the end of this year.
---