Important Dates
Important Dates - Reedy Creek
9 June 2023
TERM 2-3, 2023 IMPORTANT DATES
JUNE
13-14 June
Years 7-12 Athletics Carnival | Runaway Bay Performance Centre
12 & 15 June
Years 3-6 Athletics Carnival | Runaway Bay Performance Centre
15 June
LAST DAY OF TERM 2
Prep - Year 2 Free Dress Day
16 June
Year 12 Formal
19 June
King's Community Golf Day
JULY
11 July
FIRST DAY OF TERM 3
13-14 July
High School Production
17 July
High School Parent Teacher Conferences
18-19 July
Primary School Learning Conferences
19-21 July
Year 11 Camp
29 July
King's Carnival Day
Always refer to the Compass Calendar for more events and the most up to date event information.

View all 2023 Term Dates
View Compass Calendar
---
Academic
Students Display Foundational Values During NAPLAN
16 March 2023
2023 NAPLAN testing began this week for all Year 3, 5, 7 and 9 students across Australia. This year's testing period commenced at King's on Wednesday, 15 March, with the Writing test. Year 3 students handwrote their answers, while the other years completed the test online using their school devices. Our teachers were very impressed to see all students display King's Foundational Values during their tests, particularly courage, self-control, perseverance and excellence, as they gave their best to attempt every question. Well done for your hard work and dedication.
We want to express our thanks to King's families for their unwavering support throughout NAPLAN - for ensuring your children were organised with their devices, arrived at school on time and were well-rested for these important exams. It was heartwarming to see our Year 5 tradition continue this year with the 'NAPLAN surprise,' which includes handwritten notes of encouragement from each parent to their child which sat on their desk during their exam to spur them on. NAPLAN requires a cooperative effort and we couldn't do it without the support of our community. Monday, 20 March, marks the last day of NAPLAN for Primary, while High School have their last test on Tuesday, 21 March, and any catch up tests on Wednesday, 22 March. We wish our students well as they complete the tests for 2023. NAPLAN reports will be sent home later in the year.
---
Secondary
Year 8's 'Tremendously Memorable' Camp
14 March 2023
King's Year 8 students enjoyed their action-packed and sun drenched school camp at Alexandra Park Conference Centre on the Sunshine Coast from 6 - 8 March. Complete with beach games, surfing, High Ropes, raft building, archery tag and pool games, there was certainly something for everyone. Throughout the three days, students were challenged and supported as they stepped out of their comfort zones to build greater grit, determination and confidence, strengthen friendships and grow in their personal relationship with God. Congratulations to TYNDALE for taking out this camp's Norm Rix Shield after successfully winning the Tribal Wars House games competition.
One of our students reported on the cohort's incredible camp experience:
"Year 8 Camp, better described as 'Camp Grit,' was a tremendously memorable time for our cohort as we enjoyed the chance to participate in various thrilling activities. While our ventures were predominantly water-based, high ropes were the highlight of our land activities. In this session, students showed guts, resilience, initiative and tenacity when facing the intimidating heights that the challenge held. The standout of the many aqueous activities was undoubtedly raft building. During this designated time, students recruited life-long necessities including survival skills, teamwork and bravery as we were tasked with navigating the lake on our impromptu raft. The evenings were competitively energised with the high-stakes house challenges - Tribal Wars. The four Houses participated fiercely through the war cries and multiple other events such as tug of war, gross-food eating and pillow fights. There was strong competition between Houses, however, first place was eventually Tyndale's and we would like to congratulate them. Throughout our stay, we were delightfully surprised by the meals provided by the amazing staff at Alex Park, organised by our camp coordinator, Mr Sutherland. Nights were concluded with wondrous devotions guided by our chaplaincy team, allowing time for students to grow their faith and character. Camp Grit was a monumental success and we continue our high school journey of character-building and personal growth."
- Shanuka Silva
Watch the Year 8 Camp Video
---
King's Recent eSports Victory
17 March 2023
King's was excited to have eight students represent our College in the Senior Division of the FUSE Cup eSports Interschool Competition on Thursday, 9 March. This inaugural event attracted 32 competitors from schools across the Gold Coast and four of our students made it through to the quarter-finals. King's Year 10 student, Thomas Zischke, progressed through the final rounds to win the competition and claim the coveted Champion's Trophy and prize - Congratulations Thomas! ESports is an increasingly-popular activity that requires skill, strategic thinking, and quick reflexes, and it's fantastic to see our students excelling in this rapidly-growing field. Thanks to King's eSports coach, Mr Jason Lee, for helping our students succeed - we look forward to seeing what our students achieve in the next epic battle!
---
Sport
King's Make Waves at QLD Beach Volleyball Competition
16 March 2023
King's made a splash at the Queensland Beach Volleyball Schools Cup held at Coolangatta last weekend, with 24 athletes representing our school across nine teams. This competition is a highly-anticipated event that attracts schools from all over the State, and 2023 saw a staggering 394 teams from 53 schools across Queensland compete on 42 courts. Our teams faced some tough competition through a mix of hot and rainy conditions and secured an impressive four medals over the two days, with King's successfully finishing the competition in 11th place overall.
Congratulations to our medalling teams:
GOLD: Year 8 Boys, Four-A-Side
SILVER: Year 9 Boys, Four-A-Side
SILVER: Year 12 Boys, Pairs
BRONZE: Year 11 Boys, Pairs
With such a hard-fought contest, King's success is a testament to the hard work and dedication of our athletes and coaches and the College's commitment to building our robust sport's program. Our athletes put on an exciting performance, with players showcasing their skills and teamwork on the sand. It was wonderful to see them displaying our Foundational Values of perseverance and excellence as they showed impressive resilience and sportsmanship over the weekend. Well done to Coach Ari and his team, to our players for these achievements and to our supportive families, as we celebrate this well-deserved success with you.
---
South Coast Regional Swimming Trials 2023
9 March 2023
The annual South Coast Regional Swimming Championships was held on Tuesday, 7 March, at the Gold Coast Aquatic Centre. King's had 23 swimmers competing in their selected events and 17 qualify to compete in the QLD School Swimming Championships, which were held in Brisbane this week. Well done to our swimmers who have been achieving incredible success at the State Swimming Championships this week with special mention to our students who have now qualified to attend nationals. The 13-19 years age group event results will be published in the next edition.
Primary State Swimming Placings
Knox Anderson
4th RELAY
Meggie De Chhimba
BRONZE - 100 BR - Qualified to Nationals
Tanyka Goode
SILVER - 100 FR - Qualified to Nationals
SILVER - RELAY, 5th - 100 FR Final
Makyra Melo
GOLD - 50 BR - Qualified to Nationals
SILVER - 100 FR - Qualified to Nationals
SILVER - 50 FR - Qualified to Nationals
SILVER - 200 50 FR - Relay
BRONZE - 50 FLY - Qualified to Nationals
5th - 100 FLY Final
---
Chess
King's Begins 2023 with Multiple Chess Crowns
10 March 2023
King's chess teams, led by Mr Cooke and a supportive team of coaches, kicked off 2023 in the best way possible, winning several tournaments in the first few weeks of the school year. King's Primary and High School chess teams both managed to win the Gold Coast Secondary and Primary Hinterland Championships, with several players achieving perfect scores on the day.
In the Primary Championships, Joshua Ong and Nikolaj Brdaric both scored 8/8 - a feat unmatched by anyone else in the 36 players' field. Rentaro Inukai was also rewarded for his hard work and achieved a score of 7/8 on board one, while Siannah Cooke fought hard to score 4/8 to add to her team's winning tally.
King's sent two teams of four to compete in the High School Chess Championship and secured First Place in sensational style, winning 23.5 points /28 King's, a whole round ahead of their second-place rivals. The King's team 1, including Bryan Yang, Edwin Choi, Jordan Chan, and Cooper Whitaker, defeated the top teams from some of the Gold Coast's top chess schools, while King's team 2, including Tristan Smith, Kotaro Inukai, Woo Joon Ki, and Will Cameron, finished strongly in Third Place with all players placing within the Top 20.
For the King's chess teams, the Cookies Chess Individual Age Competition is always one of the most exciting events on the calendar and presents a great opportunity for students from our Reedy Creek and Pimpama campuses to demonstrate their improvement over the last year. With a record-breaking 185 participants, First Place was eventually split between Woo Joon Ki, Edwin Choi, and William Cameron, in the overall division. It was particularly exciting to see students who have been working hard during their chess lessons come out on top of the individual championships, and this hard work will undoubtedly pay off later in the year in external competitions.
View Standings from these Competitions
Register for Easter Chess Camp
Register for Cookies Chess Pizza Nights
Register for Cookies Chess QLD Rapids
Register for Term 2 After School Chess Program
Steven Cooke - Coach Profile
Jack Rodgers - Coach Profile
Yi Liu - Coach Profile
---
Community
Parent Ambassador Program Launches for 2023
15 March 2023
Every class in King's Primary has a Parent Ambassador (previously known as Class Coordinator) who helps to foster stronger connections among the families in their class and year level, as well as support their teacher at times throughout the year. Parent Ambassadors are invaluable members of our school community, and as busy parents themselves, they generously volunteer their time to our College. Our Parent Ambassadors attended their 2023 Welcome Event on Friday, 10 March, in the new Primary Building. They were welcomed by our Head of Primary, Mrs Payne, introduced to King's Year Level Coordinators, learned some valuable Compass tips from our Director of IT and Innovation, Mr Galer, and enjoyed afternoon tea together.
If you are a new King's family and would like to get better connected, email connect@kingscollege.qld.edu.au to be put you in touch with your Parent Ambassador. The College also has private King's Year Level Facebook Groups which are strictly for current parents in that year level as a way to help connect parents. These groups also show the list of Parent Ambassadors for that year level.
Special thanks to our 2023 Parent Ambassadors for their willingness to serve this year!
---
International
Japanese Students Visit King's on Study Tour
16 March 2023
We are delighted to welcome Japanese students from Seikyo Gakuen to King's for a week-long study tour. The students are staying with host families from our school community, providing an opportunity to experience life here and learn more about our culture. Our Japanese visitors have been attending classes and chapels, participating in cultural activities and visiting local tourist attractions during their stay. They will have the opportunity to explore the Gold Coast and gain a deeper understanding of our culture and way of life.
We encourage our school community to extend a warm welcome to our international visitors and show them hospitality and kindness. Take the time to introduce yourselves, make them feel at home and learn about their experiences in Japan. Let's make this study tour an unforgettable experience as we share our culture and learn from theirs!
---
Creative Arts
King's Busy New Art Studio
16 March 2023
The new Primary Art Room continues to be a hive of activity, with students busily completing their incredible creations for our upcoming Easter Fest event. We have been astounded by the quality of the student's artwork and encourage all parents to come and view these exhibitions on March 28 at Easter Fest 2023. Our teachers have also been blown away by the beautiful entries for the Easter Fest Art Competition, which attracted over 100 entries and will make judging very challenging.
The new Art studio space was also host to some very special guests on Friday, 3 March, with Mrs Wendijk opening the room to QATA Primary Art Teachers. A number of teachers turned out for a relaxed evening to discuss art ideas, the best resources and the new 9 ACCARA curriculum.
---
Important Notices
King's Armed Services Honour Roll 2023
7 March 2023
Our college has an Honour Roll of King's alumni who have joined the Australian armed forces since their graduation. The Honour Roll is read out each year during our school ANZAC Day service in April. Please email Mrs Aya Baker the names of any King's alumni who are not on the current Roll below, but are serving or have served in the armed forces, so they can be added and acknowledged during our ANZAC Day assembly in Week 2 of Term 2:
King's Honour Roll
Royal Australian Army
Dre Baker
Daniel Barrett
Bernard Budiono
Jacob Cooke
Alex Goodwin
Chris Graudins
Jesse Gribben
Mitchell Johnson
Jamie Kahika
William Mellor
Timothy Schrenk-Mariner
Daniel Smith
Sean Thompson
David Ware
Matthew Whiting
Royal Australian Air Force
Robert Barker
Brock Bassnett
Jayden Blackman
Liam Donelly
Joshua Oaks
Ruben Marais
Lloyd Price
James Stamoudis
Brianna Trudgen
Rhys Trudgen

Royal Australian Navy
Kristen Bohlsen
Daniel Cooke
Amanda Frape
Bronson Knowles
Travis Knowles
Demi Maher-Smith
Ryan Webb
---
Easter Fest 2023 is Nearly Here!
16 March 2023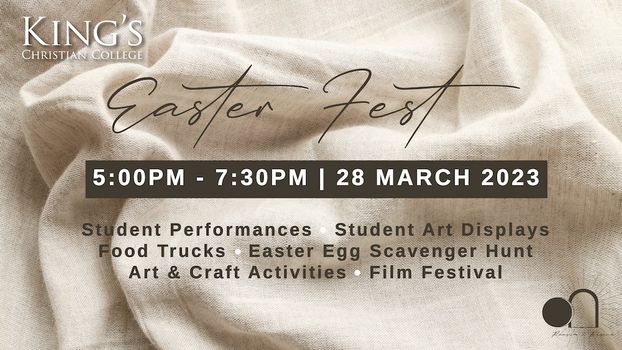 Easter Fest 2023 is an incredible event for our College community and will be the perfect chance for King's families and friends to celebrate our student's musical and artistic talents while enjoying festivities for all ages. This year's event is themed Ransom and Rescue and we look forward to this special community celebration on Tuesday, 28 March from 5pm - 7.30pm.
Easter Fest Highlights will Include:
Student musical performances
An Easter scavenger hunt
Food trucks with a range of cuisines
An art activity, hosted by special guests from HOTA
Art exhibitions
King's Student Film Festival
Fun for the whole family!
We look forward to welcoming you to King's for Easter Fest 2023, as we come together as a community, to reflect on the Easter message. More information will be shared via Compass in the coming weeks.

---
Careers
Careers Department Highlights
13 October 2023
Traineeships Available
There are a number of traineeships available and these vacancies are listed on King's Careers site. These change on a weekly basis as new positions become available. Students are encouraged to source their own traineeship employer if there is nothing on the list that appeals to them.
CURRENT TRAINEESHIPS
Registered Training Organisation Courses
Students in Years 10 and 11 can apply for external study options to enhance their career options. Students need to ensure they have good time management skills to cope with the workload.
Online Careers Hub
The 'Where to Next' Hub is available on CareersEvent.com, and provides an informative Careers Hub for senior students and their parents. Visit the hub for access to tertiary webinars, upcoming events and the latest news on careers and courses.
---
Read More From King's Careers
For a full list of events or to register for the King's Careers Newsletter, visit King's College Careers.
View QLD Careers Calendar
Tips for Career Planning with your Child
Career Conversations with your Child
Career Tools Newsletter
Pathways to Nursing
Pathways to Entrepreneurship
10 Tips to Study Smarter
---
Creative Arts
Follow King's on Instagram
9 June 2023
Did you know that King's have a range of vibrant Instagram accounts showcasing many exciting aspects of our school life? We have pages for our art and sports departments and our central College page: @kings_christian_college. We'd love you to follow us to support our students and see what's happening behind the scenes at King's...
---