Important Dates
Important Dates - Reedy Creek
9 June 2023
TERM 2-3, 2023 IMPORTANT DATES
JUNE
13-14 June
Years 7-12 Athletics Carnival | Runaway Bay Performance Centre
12 & 15 June
Years 3-6 Athletics Carnival | Runaway Bay Performance Centre
15 June
LAST DAY OF TERM 2
Prep - Year 2 Free Dress Day
16 June
Year 12 Formal
19 June
King's Community Golf Day
JULY
11 July
FIRST DAY OF TERM 3
13-14 July
High School Production
17 July
High School Parent Teacher Conferences
18-19 July
Primary School Learning Conferences
19-21 July
Year 11 Camp
29 July
King's Carnival Day
Always refer to the Compass Calendar for more events and the most up to date event information.

View all 2023 Term Dates
View Compass Calendar
---
LIFE Fundraising
Generating Change for Teen Challenge
23 May 2023
Our High School community hosted a vibrant lunchtime fundraiser on Thursday, 18 May, to support the remarkable work of Teen Challenge. Teen Challenge are a local Christian charity that has transformed the lives of countless young people grappling with addiction, abuse and other life-controlling problems. The event generated vital funds for the organisation while providing an avenue for students to show compassion and love towards others. The highlight of the fundraiser was a free t-shirt day, where students wore jerseys representing their favourite sports teams. The display of team spirit served as a visual reminder of the power of collaboration for a common cause. Various activities engaged our community in the fundraising fun, including a lively Table Tennis competition. King's philanthropic LIFE team took charge of a delicious BBQ fundraiser, serving sizzling sausages, fairy floss and other treats to hundreds of hungry staff and students. Music filled the air as our talented 'King's Rock Band' created an energetic atmosphere with their rock-inspired tunes, led by Mr Reddrop.
This event successfully raised $4,099 for Teen Challenge and reinforced our unwavering commitment to helping those in difficult circumstances. So far this year, our school community has raised close to $30,000 for various charities. By dedicating time and energy throughout the year to these valuable activities, we outwork our College's Foundational Values and embody the characteristics of what it means to be a 'King's Kid' by making a positive impact on the world around us.
---
Careers
Careers Festival Proves a Resounding Success
25 May 2023
Our Careers Department and KTTC worked collaboratively for many months to organise the inaugural King's Careers Festival for our High School community. The event aimed to provide valuable career guidance to our Year 9-12 students and was the largest of its kind on the Gold Coast. With over 45 exhibitors from tertiary providers across Southeast Queensland, including universities, trade schools, and emergency service operators like the Queensland police, ambulance and fire service, attendees had access to a wealth of resources and insights. There were also information sessions to assist families with understanding ATAR and QCE information, and these were well attended throughout the evening.
The event's success was evident by the impressive turnout of over 300 King's families, and it was exciting to see all guests seizing the opportunity to interact with exhibitors and gain a clearer understanding of their future career options. As the evening ended, attendees left King's armed with newfound knowledge and a clearer vision of their post-secondary pathways. The positive impact of this event set a strong precedent for future career-focused initiatives as our College continues to propel students towards prosperous and fulfilling careers.
---
KTTC
KTTC's Connection-Building Camp
22 May 2023
This year's highly-anticipated KTTC Camp was held at Tallebudgera Recreation Centre and proved to be a remarkable success, leaving a lasting impact on all who attended. This year's camp was tailored to meet individual needs and as a result, saw an unprecedented level of student participation and enthusiasm. The first afternoon began with an exhilarating 2-hour activity session led by the energetic Wilson Marsh. His engaging approach got the students physically active and fostered a strong sense of camaraderie. Following dinner, Wilson's moving devotion touched the hearts of many, resulting in three students publicly praying for him. Additionally, fifteen students sought Wilson's guidance privately, asking questions and joining him in prayer. Wilson also revealed during his message that his brother had tragically passed away that same day, making the impact all the more profound.
One of the standout aspects of the three-day experience was the exceptional cohesion between staff and students. As these relationships were cultivated through casual conversations and fun activities, it was heart-warming to see students requesting staff join them for meals and camp activities.
The overwhelming enthusiasm for next year's camp is already palpable among the students, with many eagerly discussing and anticipating future adventures. The 2023 KTTC Camp has undeniably left an enduring impression, forging deep connections and creating memories that will continue to resonate throughout the year. We extend our gratitude to everyone who contributed to the success of this extraordinary camp and look forward to more transformative experiences and continued growth as we embark on future KTTC endeavours.
---
Primary
Spanish Dance Club Perform 'Encanto'
24 May 2023
On Tuesday, 23 May, the Year 3 students showcased what they have been learning in Spanish classes during the Year 3 Assembly. The Year 3 Girls' Spanish Dance Club started off with a lively item from the Encanto movie soundtrack. The talented young performers were dressed as 'Mirabel' and enjoyed dancing to 'Asi es Colombia,' by Carlos Vives. This was the first of three performances they will do this year with upcoming dances planned at the 'Day of Hope' and King's Carnival Day. After the performance, each Year 3 class shared a song they have been singing in Spanish class. Students have been working very hard in Spanish lessons to practise Spanish greetings, alphabet sounds, and 'all about school' and it was exciting to see them show what they have learned to an audience. Thank you to the parents and friends who joined us at this special Year 3 assembly.
---
Year 5's Explore Local Native Biomes
23 May 2023
Our Year 5 classes recently embarked on exciting excursions to focus on various local biomes. The interactive learning experience allowed them to immerse themselves in the natural world while fostering teamwork and creativity. The highlight of these excursions was the production of a collaborative video showcasing their newfound knowledge and skills.
5RA and 5RB headed to Jellurgal Walkabout in Burleigh Heads where the iconic coastal location provided the perfect place for students to learn about the unique flora and fauna found in the conservation site. 5RC and 5RD travelled to the picturesque Hinterland Regional Park in Mudgeeraba where they ventured into the woodlands that make up the natural biome and eagerly investigated the God-made factors that shape its ecosystem. 5RE and 5RF visited the Gold Coast Regional Botanical Gardens to enjoy the green oasis and study the stunning array of plants. Before the trip, students had worked in small groups to draft a storyboard and plan a two-minute video, which would showcase a chosen focus area from one of these topics:
God-made or man-made factors
Sustainability
Indigenous connection
Plants or animals
During the excursion, students were armed with iPads and a sense of curiosity to capture footage that documented their unique environment. They were assigned roles to help them produce the video effectively, and their collaboration and creativity was exceptional. Once the short videos are completed, they will be combined to produce a class video which will be presented during a special screening at the end of Term 2. Throughout this authentic learning task, students have developed skills such as research, teamwork, communication and technological proficiency. They have gained a greater appreciation for the outdoors and an understanding of the delicate balance between nature and human interaction.
---
Year 3 Devotions Group are Growing in God
25 May 2023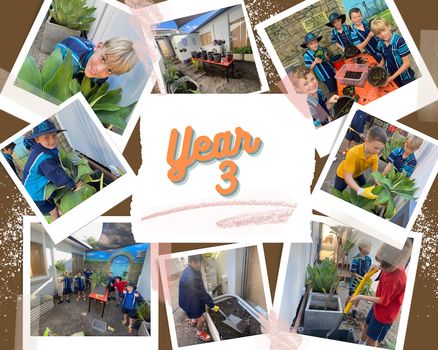 On Wednesday mornings at King's, a small group of Year 3 boys participate in a morning devotion called Growing of God's Garden. During the devotion, students learn what is needed to help create, plant and maintain a garden. While the boys are learning how to be great leaders in the garden, they are also discussing how these leadership skills of care, excellence, self-control, perseverance and respect can be applied to the classroom, the playground and outside of school. They are doing a great job of transforming this space into a caring, loving space for all to enjoy.
---
Secondary
Year 11 Academic Celebrations
22 May 2023
On Wednesday, 17 May, a celebration lunch was held to recognise the outstanding academic achievement of a select group of Year 11 students. Joined by some of our Teaching and Learning team, as well as Mr Vallance and Mr Meyers, students enjoyed a pizza lunch in celebration of their hard work during Unit 1. The lunch was an invitation-only event for students who had demonstrated an outstanding approach towards their studies in Unit 1, both in terms of their academic results and their attitude to learning. We are so proud of their dedication and commitment to their studies.
We look forward to inviting Year 12 to a similar celebration of their Unit 3 results now that their reports have been released and encourage all our students in their diligence and hard work.
Congratulations to these Year 11 students for their outstanding academic achievements:
David Johnstone
Ashley Kwon
Mia Ryan
Aclaire Sethakulvichai
Byron Tolhurst
Tamzin Fraser-Buchanan
Kayla Forster
Mihalo Daric
Kaylie Vermooten
Joshua Curgenven
Kyah Anderson
Alisha Holmes
Hamish McKenzie
Erin Dallinger
Mitchell Smith
Isabella Horton
Layla Vlahos
Bethany Vaotuua
Sophie Mayes
Connor Maguire
Billie Burton
Jerome Mak
Liam Davey
Julia Vallance
Ciara Van Dam
Lily Gallagher
Giorgia Brambilla
Ava Edwards
Kari van der Walt
Jessica Salvalaggio
Tikaia Craig
Jamie Doran
---
Real Life Lessons From Professional Athletes
22 May 2023
Last Wednesday, 17 May, the Year 11 Rec B class took a trip up north to the Brisbane Broncos Clive Berghofer Centre. We were greeted by Michael Hancock, a former NRL player who contributed to the Broncos first five Grand Final victories. He started by taking us on a tour of the Cyril Connell Performance Centre facility, which was the Broncos old training facility that the WNRL team now occupy. We explored their training shed, gym facility, team pool and meeting room and gained a great insight into the operation behind the NRL club. After our first tour, we were fortunate enough to watch the first-grade players train during their captain's run and after that, we had the chance to meet some of the players and take a few photos together. Once we'd become acquainted with our new friends, Mick took us on our second tour of the day through their new Clive Berghofer facility and we were all amazed by how specific and intentional all their training, diet, and sleep schedules are. We ended the excursion by having a field training session led by Mr Hancock and we learned how technical the life of an NRL player is. This valuable opportunity helped us see firsthand the work that the players put in behind what we see on TV and it gave us a new understanding of the dedication and sacrifice it takes for a career in professional sport. A massive thank you to Mr Michael Hancock for showing us all the aspects of the highest level of the sport and recreation industry. This experience will never be forgotten!
By Emily Muller
Year 11 student
---
Sport
King's Sensational Season One of APS
24 May 2023
Our High School APS teams have had another sterling season of sport amongst the group of eight Associated Private Schools across the Gold Coast. We are excited to have 44 teams playing for Season One Premierships this week, with a perfect split of 22 boys' teams and 22 girls' teams all heading into Grand Final matches. King's is pleased to see so many teams and students continuing to blaze a trail of exceptional results across a range of sports, consistently surpassing previous results and showcasing impeccable Sportsmanship on and off the sporting arena. Good luck to all teams! Results will be published in the next newsletter.
---
King's Duo Excel at Cross Country Championships
25 May 2023
On Sunday, 14 May, the Queensland All Schools Cross Country Championships were held at Victoria Park in Brisbane. King's had two runners attend to represent our school. Kyah Anderson ran an outstanding race to win the Gold medal in the Girl's 16 Years age group. Kyah dominated her race, winning the State title by 45 seconds! Our 2023 Cross Country Captain, Joseph Lethlean, competed in the Boys 16 Years age group and finished a very credible 5th place. Our cross-country squad now turns their attention to the upcoming Regional Trials to be held next Tuesday. We wish all our 23 runners the best of luck.
---
Library
King's Celebrates 23rd National Simultaneous Storytime
24 May 2023
On Wednesday, 24 May, King's joined with many schools and Early Learning Centres from across the Pacific for the 2023 National Simultaneous Storytime (NSS). The special annual event features an Australian book that is read simultaneously to young listeners. Now in its 23rd year, NSS has become an annual opportunity for educators across Australasia to unite through a shared love of storytelling. The book chosen for 2023 was 'The Speedy Sloth' by authors Rebecca Young and Heath McKenzie, which provokes the inspiring message that winning doesn't have to mean beating everyone else, but rather the great feeling of setting a challenge and accomplishing it. This year, 'VIP Guest Readers' included Grant Denyer, Gabrielle Wang (Children's Laureate) and the book's own author, Rebecca Young, who live-streamed the reading of her book from The Sydney Zoo, alongside her illustrator Heath McKenzie.
King's Primary students marked the occasion during their classes that morning as they sat virtually alongside more than a million students from across Australia and New Zealand to enjoy the joint literary experience. Each student received a Certificate of Participation to acknowledge that they had taken part in this wonderful initiative.
---
College Life
A Day in The Life of Ray
25 May 2023
Our College has a number of important departments and staff who work behind the scenes every day to give our students the best possible experience at King's. In upcoming editions of the newsletter, we will introduce you to some of our unsung heroes, starting with Mr Ray Donaldson, our King's Security Officer of six years...
What is an average day at King's like for you?
"My day starts with meeting and talking to students, staff and parents as I walk through the school. My mum always told me to greet and acknowledge people because you never know how that greeting might change their day. My days are never quite the same as we have a very busy school. But I spend a large part walking around or driving the buggy and checking on different areas, as well as students and staff. I also watch our cameras for different things that happen around the school. I'm always on the look out for anything that seems out of place that may affect our students' safety. Sometimes you'll find me on the front desk helping with phone calls, in the bus zone getting our students safely onboard, or at school events making sure our students are safe."
-
Why do you see your role as important for our community?
"Having a staff member onsite who has a physical presence in the capacity of a lawful guard, is important. It sends a message that we take the safety of our school community very seriously. When the security guard arrives it creates a pause that allows a person to think 'oh, security's here' and sometimes that is all it takes to change a situation. I think it's important to have the right person in that role who is integrated into our community and has standing relationship, not just with staff but also with students and parents. It helps in those moments when something has the potential to become better or worse."
-
What do you love about your role?
"I love that I get to watch our King's kids grow up. To see students shift from kindergarten to primary to high school, and then graduate. I love watching our kids crush it at sports, get better and better at playing instruments, win debates and perform in musicals and create wondrous works of art. In my role, I get to see all that. I get to see awesome people that I work with celebrate birthdays every month. I get to see our school family rally around someone after they've lost a loved one. I get to see the wins and losses at every level of the school. That's why I love my role - I get to be everywhere."
-
Do you get called to help with snakes or other wild animals?
"Sometimes - mainly dogs that come onsite. I've chased a few birds, rescued some kittens and also helped some turtles that fell from the dam. I've also assisted with a few snakes and stood to guard a few. I was just never quite sure if I was looking after the safety of our students or the welfare of the snake!... but snakes are always handled by Richard Webb, and the grounds staff. I've moved a few of the kangaroos back into the Archery Centre next door when they've bounced out into the car park, just before families arrived."
-
Beyond King's, what are some of your favourite hobbies?
"I love playing board games and video games, and I also paint miniatures."
-
Next time you see Ray doing his 'rounds, don't forgot to say 'hi' and thank him for all he does!
---
Alumni
King's Alumnus Makes her Mark on MasterChef
16 May 2023
King's talented alumnus from our Class of 2015, Grace Jupp (nee Payne), is currently making waves as a contestant on the latest series of MasterChef Australia. Grace's passion for food was ignited during countless hours spent in the kitchen with her mother (King's Head of Primary) and her 'Baba' (Grandmother). Grace draws inspiration from her family's rich Croatian heritage and the way they express love through food. With her own modern twist, Grace aims to impress the judges by dishing up some delightful flavours from Croatia. In addition to her family's influence, Grace's husband, a former chef, has been a significant source of inspiration in her culinary journey. Together they have explored the world and been inspired by flavours from different cultures, and they now own and operate an olive oil company on Victoria's Mornington Peninsula. While Grace admits that olive oil, garlic, and potatoes are a few of her favourite ingredients, she considers her positive attitude to be the secret ingredient that complements her culinary skills. So far on MasterChef Grace has enjoyed plating up some incredible dishes and cooking alongside legendary chef Jamie Oliver.
Beyond her passion for cooking, Grace enjoys being out in nature, immersing herself in a good book and expressing her creativity through photography. Looking ahead to the future she envisions expanding the food offerings of her business and creating a 'farm-to-plate' experience. As Grace continues to compete on MasterChef, her skills, passion for Croatian flavours and indomitable spirit will undoubtedly captivate viewers and judges alike. Our King's community eagerly supports and celebrates Grace's journey as she chases her dreams and brings her unique talents to the forefront of Australia's culinary scene.
---
Important Notices
Carnival Day is this Weekend!
21 July 2023
Entry is free but you students are encouraged to purchase a $20 wristband for unlimited access to our Carnival activities including:
Pedal Carts
VR Tent
Silent Disco
Bubble Soccer
Sideshow Alley Games
Face Painting
Petting Zoo
Trackless Train
Bouncing Castles
Trampolines
Climbing wall
33m Obstacle Course
...And more!
PURCHASE A CARNIVAL DAY WRISTBAND
Carnival Day Cake Stall
We are still asking for support for our Carnival Day Cake Stall this year, and appreciate our families supplying home-baked items for this popular stall. A variety of cakes, cupcakes, slices, muffins, flans, doughnuts and cookies are always much-loved options and sell quickly on the day. All funds raised will go towards our LIFE program, which helps charities in need. All items can be dropped to the Cake Stall on the morning of Carnival Day or just before the event. Please deliver to the stall in the Breezeway (opposite Main Library).
CAKE STALL FORM
Overflow Car Parking
Car parking is always at a premium on Carnival Day. The following are some alternate options to our main car parks:
Reedy Creek Baptist Church car park on Gemvale Road - this is located just a short 5-10 minute walk along Gemvale Road
Eden View Drive - park on this road and use the High School entrance to the school
Car pool/ walk
DO NOT park on yellow lines or over driveways around the campus vicinity. Traffic enforcement often patrol the area during busy events and will issue tickets if parked incorrectly
View our Carnival Day website for more information
---
Compass App Update & Changes to Absence Notifications
11 May 2023
KING'S COMPASS APP UPDATE
A new version of King's Compass app is now available. Please install this app update to ensure you have access to these important changes.
LOGGING INTO THE UPDATED APP
You will need to re-login to the updated app using your King's email address with the format firstname.surname@kingscollege.qld.edu.au and the default password emailed to you by our IT department in September 2022 (search your emails for 'Compass Username and Password'). If your child has started at King's since September, please refer to the welcome email from IT which provides your password. If you still have trouble finding the password, please email itsupport@kingscollege.qld.edu.au and they will send it to you ASAP.
ABSENCES
The updated app includes enhanced notification options for student absences.
NEW NOTIFICATION FORM - The absence notification button will now route parents to a page in Parent Portal to log an upcoming absence. This means that all absences will be recorded directly into our student database.
FULL DAY ABSENCE - use the Compass app to notify the College by 8:30am on the day of the absence. Noah's Ark families can continue to use either Compass or the Xap app.
LATE ARRIVAL - if a student arrives late to school without a prior explanation, their parent will receive a text requesting acknowledgement of the late arrival on the Compass app.
EARLY DEPARTURE - parents can now use the Compass app to notify King's of an early departure. Parents can also still phone, email or notify the school in person. Students still need to be signed out from the Primary Office when they are collected early by a parent or nominated guardian.
2023 ATTENDANCE POLICY
Our College expects all students to attend every lesson, every day. We believe all facets of the school day contribute to the growth and development of each student. Learning is a sequential process, and absence from school often means that students miss important stages in the development of understanding. Promoting student engagement at school is the responsibility of all community members, and our College Attendance Policy outlines the roles and responsibilities of students, parents, teachers and the College.
Some highlights include:
Attendance aim of 95% (every lesson, every day)
Government regulations require attendance at school
Increased communication between home and school regarding punctuality and attendance
Absences of more than five days require a Notification of Planned Absence form
Guidelines for attendance at sport training, sporting competitions and during assessments
Procedures for late arrivals and early departures.
Please read our College's 2023 Attendance Policy to ensure you are familiar with our attendance procedures and your obligations as a parent / guardian.
View King's 2023 Attendance Policy
---
Careers
King's Becomes a Health Gateway School
26 May 2023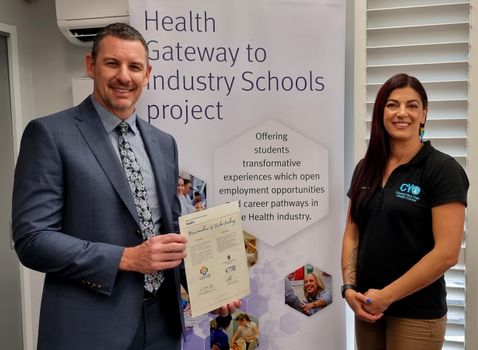 King's has signed up as a Health Gateway School which gives the College access to employers, training companies, events and resources to assist our students interested in a career in health. The MOU was officially signed on Wednesday, 24 May. Our first event is at the Gold Coast University Hospital on June 5, when five of our KTTC students will be touring the hospital and gaining information on the full range of careers available there.

---
Careers Department Highlights
13 October 2023
Traineeships Available
There are a number of traineeships available and these vacancies are listed on King's Careers site. These change on a weekly basis as new positions become available. Students are encouraged to source their own traineeship employer if there is nothing on the list that appeals to them.
CURRENT TRAINEESHIPS
Registered Training Organisation Courses
Students in Years 10 and 11 can apply for external study options to enhance their career options. Students need to ensure they have good time management skills to cope with the workload.
Online Careers Hub
The 'Where to Next' Hub is available on CareersEvent.com, and provides an informative Careers Hub for senior students and their parents. Visit the hub for access to tertiary webinars, upcoming events and the latest news on careers and courses.
---
Read More From King's Careers
For a full list of events or to register for the King's Careers Newsletter, visit King's College Careers.
View QLD Careers Calendar
Tips for Career Planning with your Child
Career Conversations with your Child
Career Tools Newsletter
Pathways to Nursing
Pathways to Entrepreneurship
10 Tips to Study Smarter
---
Creative Arts
Follow King's on Instagram
9 June 2023
Did you know that King's have a range of vibrant Instagram accounts showcasing many exciting aspects of our school life? We have pages for our art and sports departments and our central College page: @kings_christian_college. We'd love you to follow us to support our students and see what's happening behind the scenes at King's...
---